Tofino Co-op Operations and Covid-19 Response Update
Actions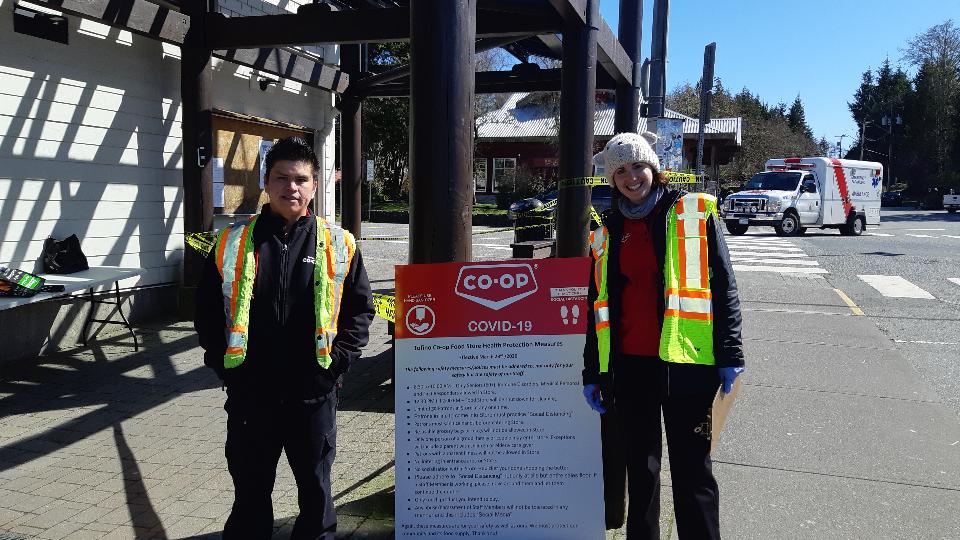 Tofino Co-op Operations and Covid-19 Response Update
April 11, 2020
Update effective Friday June 26th / 2020

Thank You All! For your cooperation & appreciation, towards our operational measures to comply with BC Ministry of Health during this Covid-19 pandemic. We would like to give you an update on recent changes to operations and what you, as customers can do to help. Our Food Store "Health Measures" are still in effect and please review HERE.
Food Store
• Number of customers accessing 25 people at any one time. Presently open 8:30 AM till 8:00 PM daily.
•Store hours may be viewed HERE.
•Lottery available May 25th / 2020.
• All Co-op Staff, at any location have the choice to wear a mask. Please understand if they are wearing a mask, this is not because they are ill. Any Staff that are ill, are to remain at home and start 811 protocol.
• Please grab a clean cart or basket from rowed & stacked section.Leave your used cart or basket in our cleaning area near front entrance.
• Please allow cashier to disinfect till area before loading till with groceries. Follow the Red X's.
• Deliveries as normal. New online order form available on this website.
• Remember the goal for all of us is to have a quick shop for everyone's safety.
Please maintain social distancing of 2 metres (6 feet) at all times within all locations to your best ability.

Hardware
• Store hours Monday thru Saturday 8:30 AM – 5:30 PM (closed Sundays)
• Limit of 5 customers at any one time. Please check how busy store is before entering.
• Practice social distancing in all areas of the store and especially at the till.
• Use sanitizer provided at entrance before entering.
• Try limit trips to Hardware if possible.
Gas Bar
• Open 6:00 AM – 9:00 PM Daily for in-store sales
• Lottery sales available May 25th / 2020.
• Limit of either one or two customers within store depending on our Staffing. Signs will be posted.
• Please social distance yourself at least 2 metres from all staff and customers.
• Plastic gloves are available at pumps as supplies last.
Tofino Life Clothing
Open Tuesday through Saturday from 10:00 AM

—

5:00 PM (closed Sundays)

Limit of 4 customers in store.
Sanitize before entering and social distance of 2 metres (6 feet) from others.