Tofino Co-op Food Store Health Protection Measures
Actions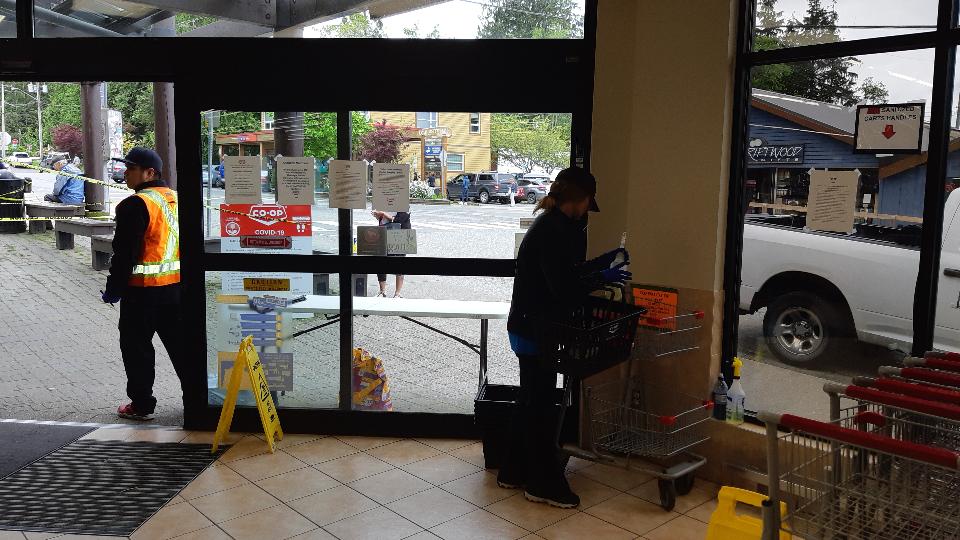 Tofino Co-op Food Store Health Protection Measures
May 20, 2020
Tofino Co-op Food Store Health Protection Measures

Effective July 20th /2020

The following safety measures/polices must be adhered to, not only for your safety but the safety of our Staff.

• 8:30 to 10:00 AM – Only Seniors (60+), Immune Disorders, Medical Personal and First Responders allowed in Store.
• Regular shopping from 10:00 AM – 8:00 PM (no closure mid-day).
• Limit of 25 Patrons in Store at any one time.
• Patrons in line to come into Store must practice "Social Distancing".
• Patrons must sanitize hands before entering Store.
• Re-usable grocery bags or mugs will not be allowed in Store.
• Only one person of a group, family or couple may enter store. Exceptions will include a parent with children or elderly care giver.
• Customers who arrive with cold, influenza, or COVID-19 like symptoms to return home and use a delivery service instead.
• No loitering in entrance area or Store.
• Use carts & baskets that have been cleaned only. After shopping please return your cart or basket to cleaning area.
• No socialization within Store – quicker your done shopping the better.
• Please adhere to "Social Distancing" not only at tills but entire sales floor. If a Staff Member is stocking or cleaning, please move around them and let them continue their duties.
• Only touch product you intend to buy.
• Any abuse/harassment of Staff Members will not be tolerated in any manner and this includes "Social Media".
Mask use is mandatory for all Co-op Staff in all locations. While masks are not mandatory for customers, their use by customers would be appreciated.

See our Food Store Covid-19 Safety Plan as per Worksafe BC Guidelines and recommendations below. For Tofino Life Clothing, Hardware and Gas Bar, please click here.
Please note these Health Measures and Safety Plans are implemented and mandated by the General Manager, Health and Safety Committee and Human Resources of the Tofino Co-op, based on recommendations and guidelines from WorkSafeBC and the BC Ministry of Health.