NEWS FROM THE BOARD - MARCH 2020
Actions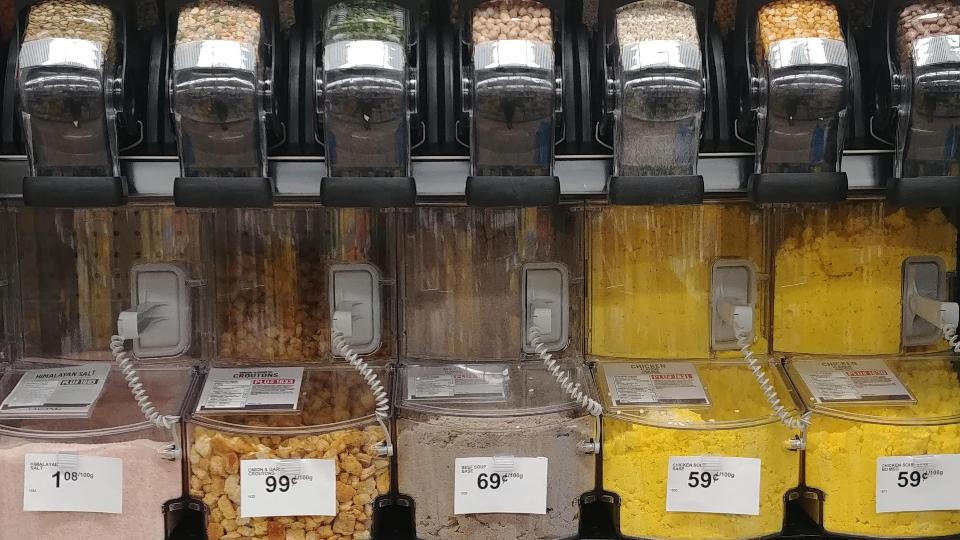 NEWS FROM THE BOARD - MARCH 2020
March 3, 2020
Hello, Members! Welcome to our third quarterly news report to keep you informed of Tofino Co-op developments and plans. As always, we thank you for your support and patronage. Here's what's new with your co-op:
Bulk Food Section Now Operational
On February 1 we opened your new bulk food section in the Food Store, featuring 64 different products. If you have never used such a facility, here's how you use it. Select the bin holding your selection, write the bin number on a paper bag (pens and bags provided at the bins), fit the bag opening over the bin spout, press the lever to release as little or as much product as you want. Fold the top of the bag closed. When you go through check-out, the clerk will enter the bin number and weigh the bag. The price will automatically register on your purchases screen and be added to your running total. It is clean and easy.
Also note that each bin is labeled with the legally required nutritional information.
If you wish an item in bulk that is not included in our display, please drop your request in the Suggestion Box at the Admin Office window. If you include your name and phone number, we will reply to you personally.
Expect Another Radio Interview This Spring
The radio interview conducted on Tuff City Radio in December was well-received by our members. We are therefore scheduling another session with our local radio station this Spring. Stay tuned as Tuff City Radio will announce when this is scheduled. We will also post the date and time on the Tofino Co-op Website.
The Board of Directors will host an Open-house Meet and Greet with the Membership
We invite interested members to join us on March 27, anytime from 1 to 5 pm, at the Co-op Training Center (formerly the Tofino Bus Station), to share your ideas, concerns, and to have your questions answered in person. Coffee, tea, and cookies will be served. Drop in and chat with us!
Tofino Co-op Joining Electric Vehicle Charger Project
Natural Resources Canada (NRCan) and Federated Co-operatives Limited (FCL) are collaborating to create a corridor of EV charger availability across southern BC. This project will cover the installation of 43 chargers at co-op locations in BC. Tofino co-op has sent in a proposal to allow us to join this program. We have been approved. How does this work and what does it cost?
NRCan's funding will cover up to $50,000 per charger, for equipment and installation. FCL will cover the remaining costs. As we have requested two chargers (one regular and one high speed), we may be eligible to receive an additional $25,000 from the BC government toward the cost of the high-speed charger. In short, it will cost us almost nothing. Agreements are now being drafted and once this is complete, we expect installation to occur before June 2021. It is our expectation to site these units in the Food Store parking lot.
Recent Road Closure
During the recent several-day road closure, the Tofino Co-op responded with emergency management of our fuel resources. Immediate holdback of 10,000 litres of gas and 8,000 litres of diesel was put in place to ensure our local emergency services had a constant fuel supply. In the event that a longer road closure should occur, be aware that we have contingency plans in place for the barging of fuel and food trucks from Port Alberni docks to Tofino Harbour. Tofino and our outlying communities will not go hungry.
Save Money Again in March and April

Our General Manager, Mike Tomilin, has agreed with us to continue the two 10% savings Fridays per month for the foreseeable future. In March these Fridays are the 13th and the 27th. In April, it will be the 10th and the 24th.
We are also continuing the Scratch and Save first Tuesday of each month. This guarantees our members a minimum of 10% (and a maximum of 50%) savings on all purchases at the Food Store, Hardware, and Tofino Life Clothing. Sorry, Gas Bar purchases are NOT included.
As always, all Wednesdays are Senior savings days (all locations except the Gas Bar). This year the savings have been raised from 5% to 10%. You must be a member and age 65 or over to qualify.
We invite you to take advantage of these special shopping days this Spring!
Tofino Co-op AGM Scheduled
Our AGM for Fiscal Year 2019-2020 has been scheduled for Wednesday, June 10, 2020, at the Wickaninnish Elementary School Gym, at 7pm.
Two Director positions are up for election. If you are interested in becoming a director, you may pick up a nominee package at the Admin Office in the Food Store. Find out what is involved. The deadline for submitting completed nominee packages is 4 pm on May 27, 2020.
DID YOU KNOW?
How do co-ops make decisions?
There are two classes of decisions: operational and governance. Operational decisions have to do with how the retail is run from day to day, staffing, types of products sold, managing co-op properties, etc. These operational decisions are the domain of the General Manager and his staff.
Governance decisions deal with planning, how to spend our reserve cash, approving operational budgets (including capital purchases), reviewing and approving annual reports, and the hiring and annual review of the General Manager. This class of governance decisions is the fiduciary responsibility of the Board of Directors.
To keep things neat, the General Manager is not allowed to get involved in governance issues; and the Board is not allowed to get involved in operational issues, which we refer to as "playing store." Good fences make for good relationships between General Managers and Directors.
What about Members? Don't they get to decide anything? The answer is YES. The members elect the Board of Directors. Elections occur annually at the Co-op's AGM. To vote you must attend the AGM. Our Rules do not allow for proxy votes. At the AGM Members also vote to affirm the Board's decision to pay out annual member equity, make any posted changes proposed to the Co-op Rules, and approve the Board's choice of the Auditor who will be responsible for the next fiscal year's financial annual report.
Members are always welcome to make suggestions and provide feedback, but have no direct control over either governance decisions or operational issues and decisions. No co-op lets its members make decisions by referendum.
Keep this in mind. Whom you elect as a Director is very important, because it is the Directors' responsibility to perform in a successful manner so that the co-op is financially sound, has good plans in place for the future of the business, resolves problems that arise along the way (manages risk successfully), keeps the General Manager on track and supports him and his staff to be successful, and sees that the membership receives a fair share of profits at the end of each year in the form of member equity disbursal.